Donor-Advised Fund Impact Story: Using a DAF to Donate Rare Items
Ralph R. Teetor invented cruise control for automobiles, and was the longtime president of the automotive parts manufacturer The Perfect Circle Corporation. He was blind since childhood, and in his later years, he relied on his two rare Patel Phillipe repeater watches and their chimes to tell the time. This gave him a level of independence that he valued. Upon his death in 1982, his daughter Marjorie Meyer inherited the watches.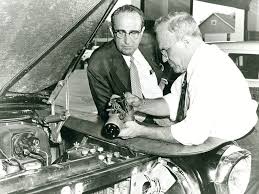 When Marjorie's husband John Meyer passed away, she and her four daughters established a family donor-advised fund. On the advice of her accountant, Marjorie met with a Central Indiana Community Foundation representative who told her of the tax benefits of making a gift of tangible property. As a result, she gave the two watches to CICF, which in turn put them up for auction through Sotheby's. The net profit of nearly $800,000 was the basis for the Meyer Family Endowment Fund. The family awarded more than $145,000 in grants, and then decided to split the fund into four separate donor-advised funds at CICF, which each of the four children and their families manage today.
---
---