Do you have examples of donor-advised fund case studies and success stories?
There are many and varied reasons donors and families choose DAFs. Here are a selection of real-life success stories highlighting some of the many reasons the DAF structure is so popular: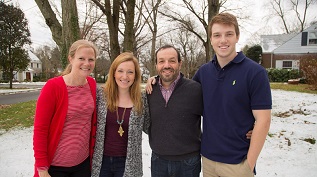 In 2007, the Salwen family— Joan, Kevin, Hannah and Joseph— were living a busy life in Atlanta, Georgia. One day, Kevin and fourteen-year old Hannah saw a homeless man in their neighborhood at the exact moment a shiny Mercedes coupe pulled up. "You know, Dad, if that guy didn't have such a nice car, that man there could have a meal," mused Hannah. It was this question that inspired her family to do something extraordinary.
---
Mike Smith and his two brothers grew up in Lafayette, Indiana in a blue-collar family. Like his brothers, Smith went on to an incredibly successful business career, inspired in part by the adults who believed in him. Equally important, he says, was the belief instilled in them that education could transform lives. This belief carried forward into his philanthropy.
---

Anne Guerrant is a former pro tennis player, and a founder of the Women's Tennis Association with Billie Jean King and other women's rights pioneers. Today, she is a global philanthropist with both a family foundation and donor-advised fund dedicated to lifting women and their families out of poverty.
---
The New Hampshire Charitable Foundation's Impact Investment Fund offers a strategic way for foundation donors to pool charitable resources, invest in local communities and earn a financial return.
---
Laura Winter served for many years as Vice President for Donor Relations at The Oregon Community Foundation. In this collection of case examples based on one or more real-life donors (names and other details have been changed to protect anonymity of OCF donors), Laura shares insight into many of the various reasons that donors and families establish DAFs as a core part of their philanthropic strategy.
The Central New York Community Foundation began its journey into impact investing in 2016, when its board approved a policy governing the practice. The foundation can now allocate up to 5% of its general funds towards loans, loan guarantees, nonprofit equity investments and other impact investment strategies and engage donors in these opportunities through their donor-advised funds.
---
It was a death in the family that inspired Gary and Sue Schwartzman to think about donor-advised funds for the first time. "When my father in law S.J. Schwartzman passed away, my husband Gary became the prime signer on two donor-advised funds that his dad had held," says Sue Schwartzman, a youth and family philanthropy expert at Schwartzman Advising. "At that point, we didn't have our own fund, although we donated annually in a significant way too many organizations. When my father-in-law left these two funds in our charge, it connected us to his legacy. He wished for his generosity and family name to live on."
---
David and Cheryl Venarge are Akron success stories, but their success didn't come easy. Now, through the David R. and Cheryl L. Venarge Fund, they're keeping a family tradition of giving alive with both their children and grandchildren.
---
Sasha Rabsey's passion for philanthropy was born in the bush of Africa. "My at-the-time 17-year-old daughter and I went to Ghana for a volunteer experience, and it was nothing like we expected. The staff of the organization disappeared for a week and we were left to care for 15 kids, six of whom were HIV positive. We had no healthcare experience and there were no protocols in place. It was a pivotal experience that opened my eyes to the pitfalls of development and philanthropy.
The R. Howard Dobbs, Jr. Foundation is the legacy of Howard Dobbs, Jr., a lifelong Atlantan who was a respected businessman, a civic leader, and philanthropist. As Mr. Dobbs grew older and began making decisions about the long-term future of the family foundation he'd established in 1959, he turned to his nephew and nieces for leadership. With the conviction that the foundation should be managed for perpetuity, it was determined that board service by members of succeeding generations would be considered a privilege and not a right; the Dobbs Fund at the Community Foundation for Greater Atlanta was established in 2002 in part to provide a philanthropic training ground for succeeding generations.
---
With three generations of family leadership spread across four states and two continents, the O.P. and W.E. Edwards Foundation faces a common challenge — keeping its far-flung board members engaged connected to its grant making. The foundation, which is based in rural Red Lodge, Montana, focuses its grant making on early-childhood issues, education, and Native American issues—and its board members pride themselves on having a personal understanding of the organizations and issues they fund.
---
For the Bradbury family, a donor-advised fund has allowed the family to become deeply involved in philanthropy together. David Bradbury and his wife Nancy established a donor-advised fund at Fidelity, and they invited their two grown sons and their families to make annual recommended grants.
---
One of the options available when family members just don't get along is the formation of separate donor-advised funds at a local community foundation or other sponsor organization, as described in this case study from the New York Community Trust.
---
The story of two rare watches, the inventor of cruise control, and a charitable gift to establish a family's philanthropic legacy.