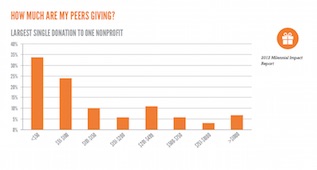 If every person in their 20s and 30s gave 1% of his or her income to philanthropy each year, it would translate into $16 billion in annual support for non-profit organizations.
To put this in perspective, $16 billion is six times more than the largest foundation in the U.S. awarded last year, more money than 11 states spend each year, and equal to NASA's 2012 budget.
This special information sheet provides answers to commonly asked questions from Next Gen Donors including:
What is a giving circle? How can it help me?
How much are my peers giving?
Why should I start now? Isn't there time for me to be a philanthropist when I'm older?