Gratitude and Humility in Philanthropy; from a Story, to a Value, to Action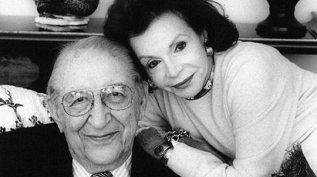 "Ask what they need – and then listen closely."  -Marjorie S. Fisher
The importance of documenting the ethos of our founders is well known in family philanthropy.  Authors and leaders throughout the field have published articles and tools (e.g. Grandparent Legacy Project) aimed to help families ask questions to elicit the core values of our founders.
These values are the backbone of our work. And when we are able to connect our founders' values to real-life stories, it can have a profound impact on our families and those we serve.
We were recently reminded of this powerful connection in our own efforts at the Max M. & Marjorie S. Fisher Foundation.
 From a story…
On June 12, 2016 Marjorie S. Fisher passed away in her home and in the embrace of her family after 92 years of living, loving, and serving.
As two members of the team who supported her personal philanthropic work – her daughter and her chief staff person – we had the immense pleasure of putting her love in motion as she spent the last decade of her life focused on making the most meaningful impact she could every day.
We often sat at her side as she read through thank you notes from various organizations she supported.  Typically she would read them and hand them back to us, commenting on how sweet the notes were. Often, she would quickly follow up with a question about the next big idea we were pursuing together with our partners.
One afternoon, after reading a stack of notes, she paused, held them in her hands, looked at them closely and said, nearly under her breath, "I'll never be able to give enough to make up for how grateful I feel for these families who have allowed me into their lives."
. . . to a value
Gratitude is talked about widely in philanthropy.  Social and environmental impact[1] professionals, board members, and development officers are trained on the importance of stewardship and making sure donors understand the impact of their support and feel appreciated.  Each year, donors see their names emblazoned on the sides of buildings or listed on plaques that celebrate their generosity.
However, gratitude and gratefulness are not often discussed in the context of how donors feel – or should feel – toward all those who contribute to change in our communities, especially those who live inside the issues we hope to address through our grant making.
Marjorie understood intellectually, emotionally and even spiritually the truly modest role donors serve alongside all those who make social change happen. They are but one part of a larger stream of contributors. Donors exist in a world along with the families who live in poverty and face daily challenges, the professionals who dedicate their lives and careers to eradicating those challenges, the volunteers who bring new ideas to the effort, and those who change laws to make them more just.  Marjorie understood the unique contributions of everyone and she practiced gratitude for all who contribute to making the social impact for which donors are most often congratulated. She felt truly humbled by the grantee partners she served, understanding the courage and effort they manifested on a daily basis.
She knew true long-term change can only be done as long as the people inside the issues allow us into their lives and hearts. As many have said before her, you cannot do work TO people, you have to do work WITH people.
With the few and very special words she spoke that afternoon while reading those thank-you notes, Marjorie summarized her approach to giving and highlighted a core value underpinning the family's style of philanthropy and service: approaching the work with a deep sense of gratitude and humility.
. . . to action; putting gratitude and humility into motion
For many years, the Fisher family has focused on making sure philanthropic decisions were made only after listening to the voices of those most directly affected by the issues we hope to address.
In an August 2015 article for the National Center for Responsive Philanthropy we described how we came to know and engage with some very special women; the early-childhood educators in Brightmoor, a neighborhood in northwest Detroit. For years, we have consulted with our Brightmoor partners — listening to their thoughts and ideas about the grant proposals that would directly affect their community. With these amazing women, some of whom live in poverty themselves, we recently decided to take the values of gratitude and humility to the next level by embarking on a co-design process for our next set of grants to improve kindergarten readiness.
Beginning with the women as the center of the design team, we set off to reengineer our shared approach to early-childhood quality rating and improvement, scholarships, and basic needs for the families. We also began a process to more fully engage the parents of the little ones throughout the neighborhood. Instead of asking for input on completed proposals, the women worked alongside social-impact organization leaders to design the interventions, metrics, and goals.
This approach led to some big changes. Throughout the process, the educators shared a number of insights and ideas about how to update training programs and the need for classes that would add to their ability to receive associates degrees. They devised a better way to distribute early childcare and education scholarship dollars, and asked for a clearer understanding of how the various social-impact groups engaged in the program were working together.
Other ways to put gratitude and humility into practice:

o   Send letters to grant partners thanking them for allowing you to invest in their work

o   Share proposals from social impact organizations with those who live with the issues every day to ask for their opinion and advice

o   Listen deeply during site visits – ask supportive questions including how the input from people directly affected by the work is gathered and honored

o   Collaborate with and advocate for people who are directly affected by the issues to be at the table.
. . . the next step; a governance structure honoring our values
It is not enough to put the values of gratitude and humility in motion by placing those closest to the issues at the center of the design process. To be truly effective, we need to take the additional step of honoring that input with a decision making and governance structure that supports it.
To do this, we recently embarked on a new effort to take a deep look into all our work and operations, including governance. With this fresh eyes approach, trustees and staff are clarifying our impact areas, thinking about our strategies, and talking a great deal about how we make decisions.
This is no easy task. We will need to focus on how we will honor and the input we receive from our partners as we craft our decision-making process. If we are to truly live our values, we must be confident the input gathered during co-design will actually be included in accepted proposals.
While our journey is far from over, we are heartened to see how our shared work has been able to capture the story and honor the values of our founders — and how these values become more and more embedded in our governance structure.
We are only one small part of the many contributions that make up societal change. However, through humility and gratitude we aim to cultivate the kind of trusting partnerships that lead to increasingly meaningful long-term outcomes.
---
[1] As the 'nonprofit' sector is the only sector described by what it is not, the term 'social-impact' is used throughout this piece as a replacement.  The authors feel 'social-impact' is a more appropriate name for the sector as its chief aim is to make a positive impact in our world; not to simply breakeven. The term also places the sector within the context of its sister sector; for-profit, for-impact.