Giving as a Family: My Family's Use of a Donor-Advised Fund Through Our Community Foundation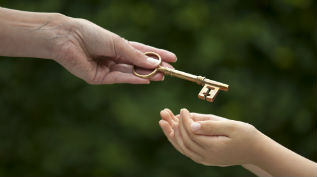 Growing up, our family always had extended family living with us: cousins in college, uncles, and other transitioning families. Through it all, I never thought we were poor. Every Sunday, even if we had to check coat pockets for change, we made sure to have money for our church envelope. Every month, I watched my mom pay bills, always leaving a small amount for St. Jude's Hospital, even if it meant we paid less elsewhere. My mom taught my siblings and me an important lesson: by sharing you realize just how much you have.
When my parents passed in the early 1980's, they left my siblings and me the family home. We reflected on the lesson of sharing, and wanted to start a family foundation to give back. To that end, I had an opportunity to be part of a conference on philanthropy and to attend a workshop on foundations. In conversation with a woman next to me, she said I should not consider starting a foundation unless we had at least a million dollars. I think I would have been okay with that piece of advice except for her disdainful tone.  My siblings and I are successful thanks to the opportunities provided by education and the support of those who came before us. However, we made the choice to give proactively throughout our lives. We wanted to continue to support our community with many directed gifts rather than a single lump sum.  From immigrant to $1M in discretionary funds in one generation was not our pathway.
Luckily, I met someone more willing to help me imagine my giving potential in conversation with a woman at a networking lunch hosted by Asian American Pacific Islanders in Philanthropy (AAPIP). She was also the daughter of immigrants and we connected over a shared sense of indebtedness to the legacy of those who paved our way.  She taught me about the vehicle that my siblings and I ultimately decided was right for us: a donor-advised fund (DAF) hosted through our local community foundation.
A DAF provides the donor(s) the opportunity to provide a tax-deductible gift to benefit the organizations and issues that the donor(s) care about most. Working with the community foundation has been great for our family because the foundation provides management and support including handling the paperwork attendant to tax-deductions.
I'm happy to report that my siblings and I opened our DAF with the East Bay Community Foundation in Oakland, CA thanks to the advice and support from AAPIP. My nephew, who works for Apple, is especially happy, because he now has a designated vehicle through which to give. For example, some of our giving has focused on nursing initiatives. However, as other issues and projects come to our attention, we have been able to broaden our giving. The tradition of sharing continues in the Abriam-Lee-Yago households through the ALY Fund. We invite you to start your own tradition of sharing!