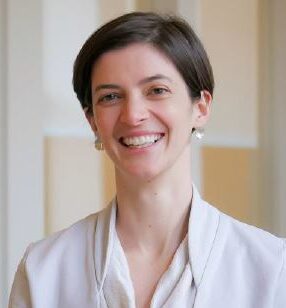 Anne Marie Toccket
Executive Director, Posner Foundation of Pittsburgh
Anne Marie Toccket has worked across the globe with social enterprises, nonprofit organizations, and individuals to build strong, lasting, effective institutions. Anne Marie is currently executive director of the Posner Foundation of Pittsburgh, a growing family foundation using diverse philanthropic tools to support solutions to social, environmental, and economic challenges around the world. Before joining the Foundation in 2019, Anne Marie was a sought-after consultant and facilitator. Anne Marie has won several awards, including the Sprout Fund Legacy Award (2018), Pittsburgh Magazine's 40 Under 40 award (2014) and the Iris Marion Young Award (2010).
Anne Marie began her career in San Juan, Puerto Rico with AmeriCorps*VISTA in a Women's Small Business Administration office at the Universidad del Sagrado Corazon. She then moved to rural Peru, where she worked for an indigenous-led NGO in building market access for Quechua women artisans. That experience led her to co-found Awamaki, an NGO that readies indigenous women artisans for small business ownership. She remains an active and enthusiastic participant in the organization's strategic planning and fundraising.
Anne Marie launched Procopia, a consultancy serving nonprofits and social enterprises, in 2012 after her work in Latin America showed that she had a skill for facilitating consensus among diverse ideas, values and objectives and across languages, cultures and worldviews. Anne Marie was a journalism major in college, which taught her intensive listening skills paired with an ability to ask questions that cut to the root of the issue at hand.
Anne Marie maintains a role at the Philanthropy Forum at the Graduate School of Public and International Affairs at the University of Pittsburgh, where she supports an effort to democratize and document the impact of community-level philanthropy. She serves on several boards, including Hello Neighbor, a rapidly scaling refugee mentorship program; Grow Pittsburgh, the regional leader on growing food in communities, schools, and backyards; and 5A Elite Youth Empowerment, an organization dedicated to helping youth heal from trauma.
In her free time, you can find Anne Marie riding her bike, walking in Highland Park, exploring Pittsburgh's lesser-trodden City steps, and spending time with her partner, Eric Davis.
We're here to equip you with the tools you need to make a meaningful impact. Contact NCFP for support!
Keep up with trends in family philanthropy. Subscribe to our newsletter!
Gain access to personalized support and a network of peers. Join our community!