Powering Possibilities: In Community and for Community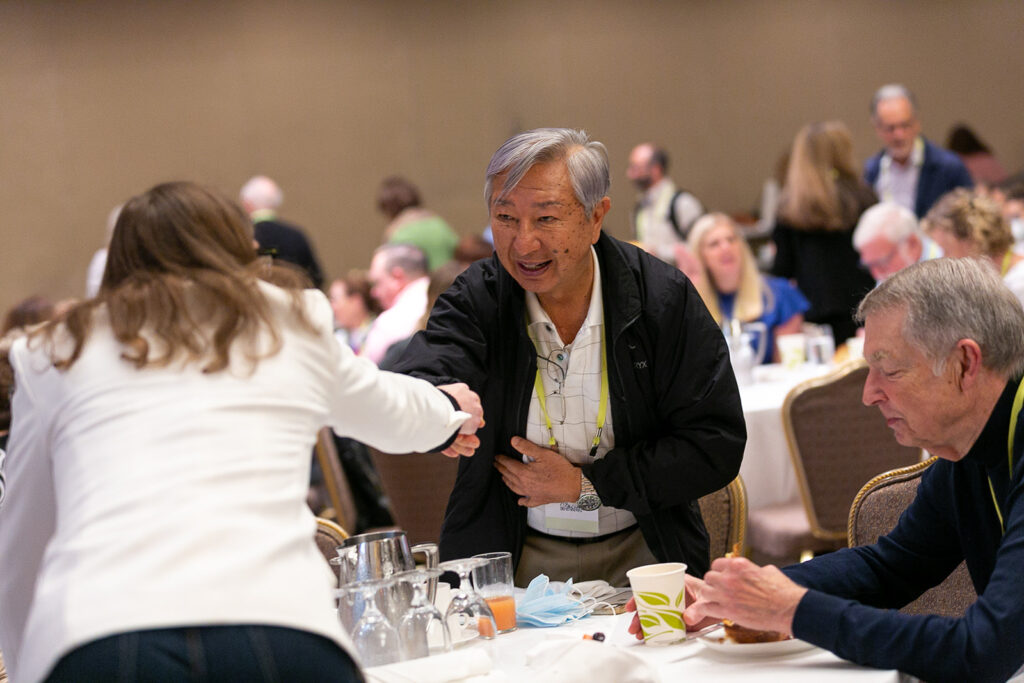 Amazing things happen when people come together in community. Mutual aid groups support local communities with access to food and needed resources. Donor collaboratives now give over $2 billion annually. Community Advisory Councils are breaking from the traditional philanthropic mold of family philanthropy governance and expanding knowledge and connection to the communities they serve.
In my personal and professional life I've seen what's possible and what can be achieved when people come together for a shared purpose in all types of community. Philanthropy can go further, faster and be more effective when it happens in community, and the urgency and enormity of the issues we seek to address have made community more critical than ever. 
The time for change is now, and community is how we'll get there. 
I see our role at NCFP as a facilitator of community and hub for learning and action. That work includes acknowledging that our sector is not a monolith. There is great diversity within our field—from approaches to governance and experience, the roles we occupy, the lived experience we bring to the work and the giving vehicles and practices we use. We all have something to share, and we can all learn and grow from each other.
Over the last year, through small and large webinars, peer networks, learning and action cohorts and more, our community explored the role of impact investing to accelerate social change, how to operationalize trust-based practices and approaches and approaches to rural funding, launched leadership opportunities for the next generation of family members, considered the role of reparations in family philanthropy, and much more.
The NCFP community has taught and inspired us. Stacey Faella, executive director of the Woodcock Foundation emphasized the impact of inflation on grantees and shared the Woodcock Foundation's decision to increase their grants during challenging times. We also learned from Liz Dozier on her experience developing the "Whole Philanthropy" approach to shift systems that often create barriers to freedom, and about the Ray C. Anderson Foundation's collaboration with other funders for local grants on climate equity through Drawdown Georgia.
Engaging with many of you across all these moments of connection over the last few years has personally helped me learn and grow as well. Without the friends and colleagues I have in this community, my understanding of equity, privilege and systemic oppression would not be where it is today. I share this because we do not need to have all the answers to be in community—we just need to be curious, open and vulnerable enough to reflect on the critical questions that help us embrace needed changes. 
What's possible when family philanthropy is at its best?
This question is the driving force of our work. In 2023, we're exploring what this looks like from multiple vantage points. With the input from many of you, we are developing a definition of effective family philanthropy. Family philanthropy is the act of the collective, yet we know individuals bring their personal passions, experiences, and interests to the table. Forthcoming research will help you build a successful giving effort that balances the interests of the collective and the individual. Finally, many families struggle to actively engage their next generation, especially as young adults often have competing priorities. In a forthcoming report based on interviews with next generation donors, learn best practices for engaging your young adult family members.
While we explore these areas, we're also committed to helping you apply what we already know works through a variety of programs and resources. These are all learning modalities to help you shift, turn your intentions into action, in some cases to help you find and build camaraderie, and to give you examples and resources to bring back to your boardrooms.
Success for our community looks like more people deeply engaged in programs, sharing their stories, being open, transparent and vulnerable. It looks like Zarrow Foundation sharing how challenging it can be to engage a geographically-dispersed next generation and offering a successful path forward through video and experiential learning. It looks like the Surdna Foundation sharing some of the honest feedback they received through Center for Effective Philanthropy's Grantee Perception Report and what they plan to do about it. It looks like Katherine Lorenz, Holley Fowler Martens, and David Roswell openly talking about how they wrestle with the creation of their families' wealth and move forward to create a more equitable philanthropic effort. It looks like Uma Viswanathan and members of the New Pluralists Collaborative grappling with pluralism in family philanthropy and what it means to be in conversation with individuals and organizations who hold different beliefs than you.
The only way change is possible is when we work in community, for community. It's through sharing, supporting and challenging each other that we learn, grow, and achieve our greatest impact. It's been a source of constant inspiration to watch family philanthropies make decisions with the communities you serve, get more proximate to the issues you seek to address, develop healthier relationships with family and become more effective stewards of philanthropic capital. As you settle into the new year, I encourage you to challenge yourself by reflecting on some questions about the many communities you're part of as a participant in family philanthropy:
What is the ecosystem in which you work, and how does your work situate itself within that landscape?

How will you keep the communities you serve at the core of your practice?

How can you be mindful of family dynamics and challenge yourself in taking empathetic approaches to hard conversations?
There's no longer a question about whether or not we'll jump to meet this moment—only of how high we will go. I look forward to finding out together.
Nick Tedesco is the president and CEO of the National Center for Family Philanthropy